We are excited to share our new page dedicated to animal safety! The new informational brochures are now available for download and will be at our events starting Spring of 2023. The brochures were created as part of a new animal safety program thanks to Gold Award Girl Scout Natalie. If you are a teacher interested in this program for your classroom or a scout leader looking for a great patch program for your troop, we're here to help.
Please email us if you would like copies of the brochures mailed to you for educational or public awareness in your neighborhood, school, church, or community. Electronic copies can be downloaded here: 
Education Programs for Scouts and Schools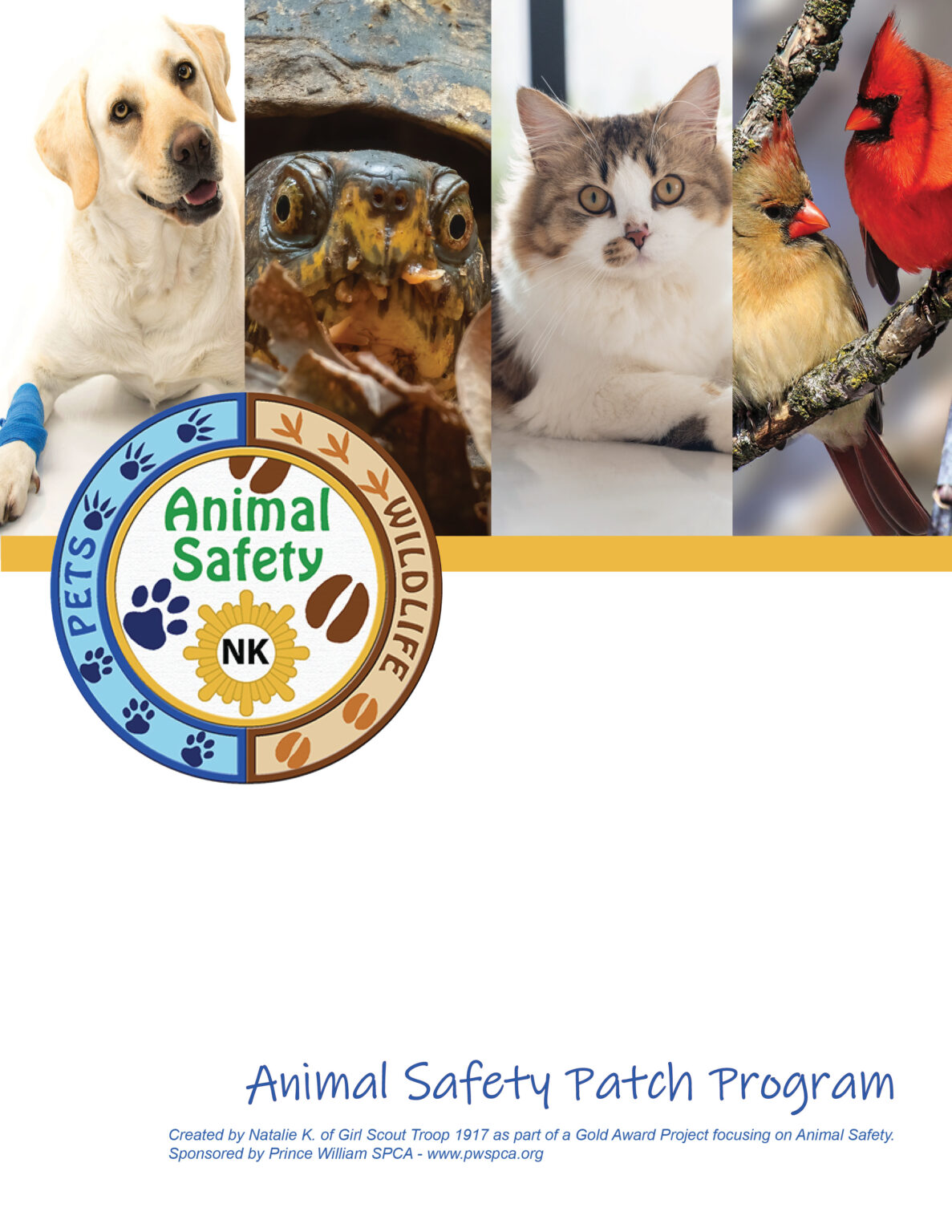 Girl and Boy Scouts are encouraged to earn this new patch with two rockers. The Prince William SPCA is sponsoring the patch program and will be providing the patches/rockers for free! Learn about how to keep pets and wildlife safe by doing fun crafts and activities. Sign up by emailing the Prince William SPCA at pwspca@pwspca.org for the instructions and to reserve your FREE patches. Include your troop #, scout type/level, and location and we will email you the patch instructions. 
Looking for Funding? Scouts in need of funding for their higher awards should apply for a "Pawsitive Impact Program" grant from the Prince William SPCA. We fund up to $1000 for animal-related projects for Gold/Silver/Bronze and Eagle Scout projects.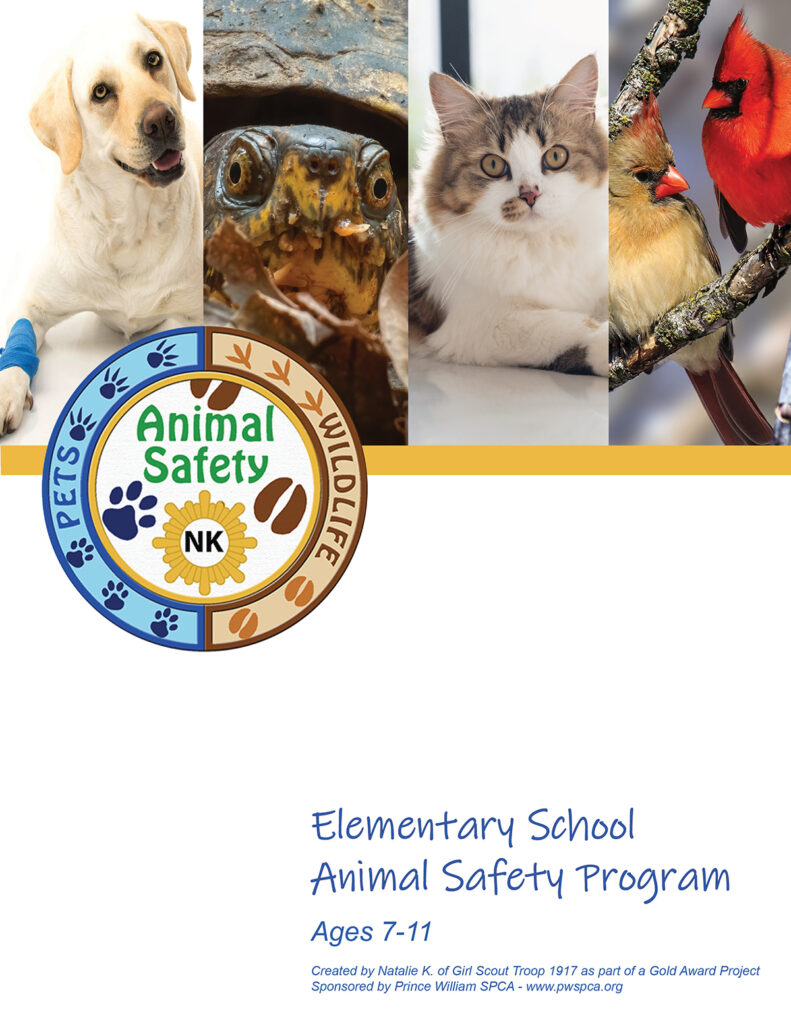 We're pleased to offer this educational program to teachers. Age range for activities is 7-11, but other students may enjoy them as well. Go on an adventure with your animal safety passport. Do a really fun turtle safety craft. Download the educational tool packet here.
Teachers in Prince William County, Manassas City, and Manassas Park, VA, are also encouraged to sign up for Kind News Magazine.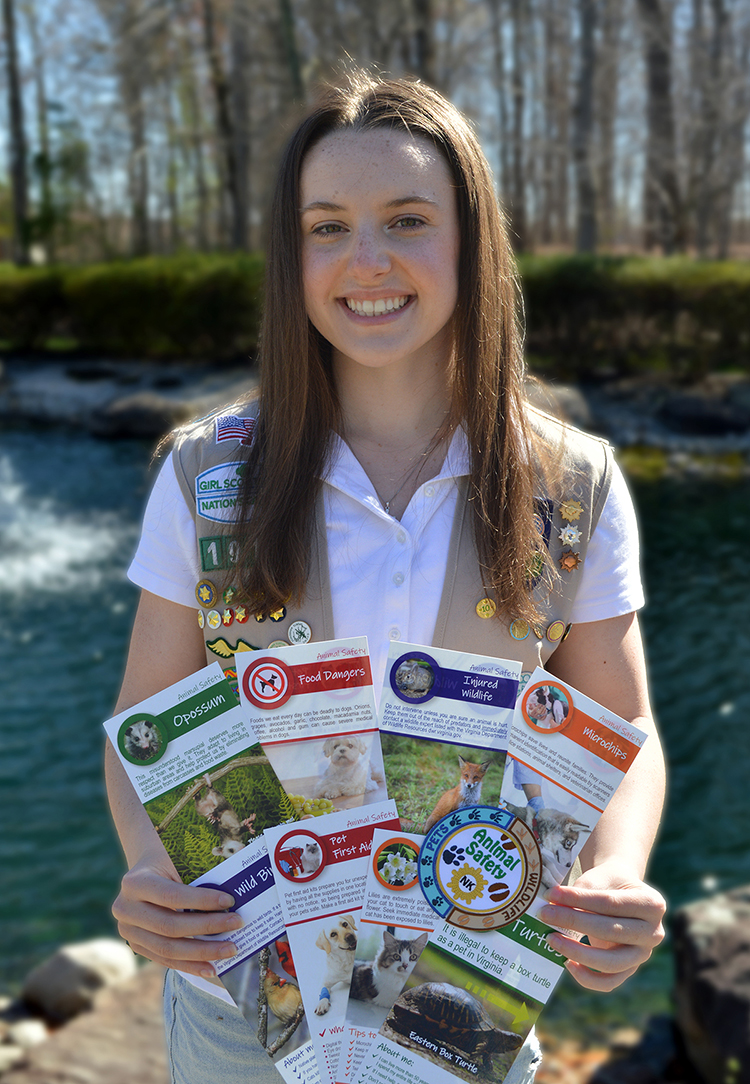 Gold Award Helps Open Eyes to Animal Safety
Thank you to Ambassador Girl Scout Natalie for selecting animal safety for her Gold Award. She developed this program for the Prince William SPCA. She is helping to "open eyes to animal safety." There is a series of pet and wildlife brochures that help educate the public on animal safety. She also led 4 in-person workshops for 70 scouts and students at the Boys and Girls Club. Her custom designed scout patch and instructions are now available to any scout (see info on this page). Patches are complimentary while supplies last. Finally, she developed a teaching tool for elementary school classrooms. Thanks, Natalie, for helping to open eyes to the importance of animal safety. For more information on how you can earn the patch, contact us at pwspca@pwspca.org.
As part of the program, Natalie taught students about the importance of getting a microchip for their pets and donated a new microchip reader to the Prince William County Animal Shelter (photo below).