The cornerstone of Prince William SPCA's Friends of the Shelter Program is the P.A.W. Express mobile adoption van. This custom 26' mobile adoption van was purchased with a $154,565 Petco Foundation Extraordinary Gift grant. It has the capacity to hold approximately 26 animals. It is custom made with roll doors that allow the animals to be viewed from the outside. Potential adopters can meet the pets in the van any time of year. Check out our events page to see where the P.A.W. Express is headed next.
Interested in hosting the P.A.W. Express at an event?  We have changes for 2022.  Event requests need to be made at least 60 days in advance for considerations. Due to our limited availability, we can only attend some events throughout the year.
Events must be shown to have at least 500 people in attendance (smaller events are no longer possible with the opening of the new animal shelter where the animals get more visibility than in the past)
Event locations need to include access for a 26′ foot van
Events generally can only be on Saturday or Sunday because our volunteers are otherwise engaged during the week
Volunteer with the Prince William SPCA
Volunteers make the wheels go around! From driving the van, to showing cats and dogs, to engaging with the public, our volunteers do whatever it takes to make the P.A.W. Express appearances a success. We are always looking for people who are passionate about animals. Join our team. Volunteer today!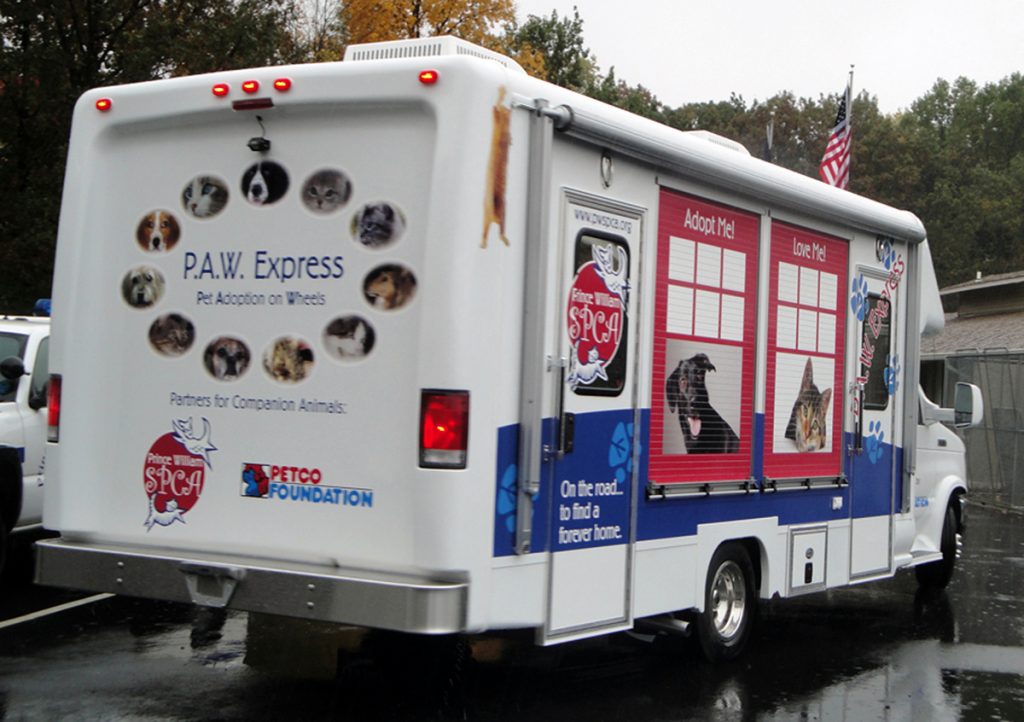 Prince William SPCA volunteers wrote the successful grant application that secured the funding for the van in 2011. The Petco Foundation was looking for proposals that were creative, increased connections with their local community and local Petco Stores, employed innovation, and most importantly, enhanced the lives of animals in alignment with the goals of the Petco Foundation. In an email confirming the award, the Executive Director of the Petco Foundation stated, "Congratulations. The competition for funding was intense, but your request impressed us all." The grant proposal included the request for a custom-built van that primarily will be used to increase adoptions of pets at the Prince William County Animal Shelter. The van will also assist in relief efforts of companion animals in crisis and serve as a transport vehicle to a spay/neuter facility. The grant was submitted as a joint partnership between Prince William SPCA and Prince William County Animal Shelter.