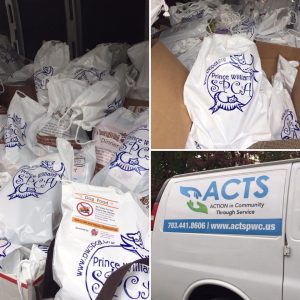 Each November, the Prince William SPCA works with ACTS on their holiday meal donation program. We provide healthy pet food alternatives to holiday "people" food. If you or your office, scout troop, church, etc., would like to assist with this effort, reach out to us.
No pet should be abandoned due to food insecurity
Below are some local resources for pet food.
Prince William County Animal Shelter: The shelter accepts donations of pet food and supplies.  What cannot be used at the shelter is donated to the community. The pantry is in the shelter. Ask the front desk staff for information.  Location: Prince William County Animal Shelter, 14807 Bristow Road, Manassas, VA 20112
ACTS: Prince William SPCA is donating pet food to the ACTS food pantry on a regular basis.  Contact them directly for more information and availability. ACTS Pantry Information
SERVE: Our volunteers donate pet food to SERVE on a regular basis.  Food assistance is provided by appointment only. To schedule an appointment, please call 571.748.2680 and please leave a message if no one is immediately available to take your call. SERVE Campus 10056 Dean Dr., Manassas, VA 20110. SERVE's Pantry Information Available Appointment Hours:
Monday: 1 – 3 p.m.
Tuesday: 9:30 – 11:30 a.m. / 1 – 3 p.m.
Wednesday: 5 – 7:30 p.m.
Thursday: 9:30 – 11:30 a.m. / 1 – 3 p.m.
Friday: 9:30 – 11:30 a.m.