Prince William SPCA: The Voice for Companion Animals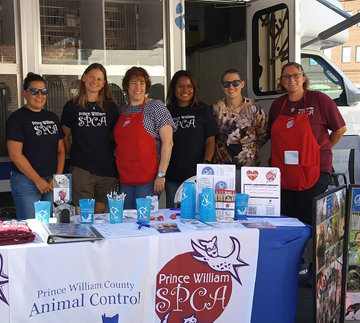 Prince William SPCA was established in 2004 to benefit the animals of the greater Prince William County, Virginia, area. This 501(c)(3) nonprofit organization is 100% volunteer-run and operations are overseen by an elected, unpaid board of directors. Dedicated volunteers are tasked with fundraising, program development, grant writing, marketing, special event planning and donor stewardship.  The cornerstone of the organization is our Friends of the Shelter Program, which raises awareness and financial support for the neediest of animals in our communities—shelter animals.  Other programs focus on humane education, spay/neuter awareness and cruelty prevention.
Our goal is to end the euthanasia of adoptable cats and dogs by promoting and supporting programs that have a positive effect on companion animals.  Our goals:
Increase animal adoption and rehoming of homeless and domesticated pets by promoting pet health and animal welfare services that encourage responsible pet care and guardianship for our youth, adults, and families.

Engage the community through use of technology and social media platforms to increase involvement and support on improving and protecting the lives of animals.

Champion humane education and cruelty prevention of both domestic and wild animals through community outreach.

Foster business and local partnerships that provide financial support and veterinary care to aid the medical needs of sick and injured animals and fundraising for other unmet needs of the Friends of the Shelter Program.
To inspire a community that fosters kindness, respect, and compassion for all animals
For all companion animals to live healthy and happy lives in their forever homes.   
Prince William SPCA is not affiliated with or mandated by any local, regional or national animal welfare organization including the ASPCA or HSUS. No national organization supports our operations. We are an independent group that works on local issues that are determined by an elected board of directors. Our funding comes from the community through donations.  We receive no funding from local, state or federal government agencies or national organizations. We are not a rescue organization nor do we have a shelter or foster program. Instead, our "Friends of the Shelter" program provides much-needed support to local municipal shelters that are often under-funded and in most need of support. When you support Prince William SPCA, your donations are returned back to your community.