Sunday, December 5th, 5-8 pm
Bring your furry family to Water's End Brewery (Lake Ridge) for the Prince William SPCA's annual Pet Photos with Santa event. High res photos will be taken and available on Facebook for downloading. Event will be indoors (dogs must be on leashes and cats in crates). Cost is free (donations appreciated).
Prince William SPCA is participating in the 2020 CFCNCA Campaign: # 66973
September 1, 2021 – If you are a federal worker or retiree, please support Prince William SPCA during this year's CFC campaign. Donations we receive from CFC enable us to continue our programs that reduce euthanasia, increase adoptions and improve the lives of companion animals in our LOCAL community. Thank you in advance for your generous support!
For details on how you can make a donation, visit https://cfcnca.org.
Campaign runs through January 15, 2022.
Animal adoption events resume on the PAW Express
Join us for the Taste of Woodbridge on June 12 11:00 am – 4:00 pm at Stonebridge in Potomac Towne Center.  This is our first event since 2019 and we are excited to be back on the road with adoptable animals from the Prince William County Animal Shelter. We will be doing our events a little differently this year to keep in line with COVID-19 safety measures. Mark your calendars and plant to attend!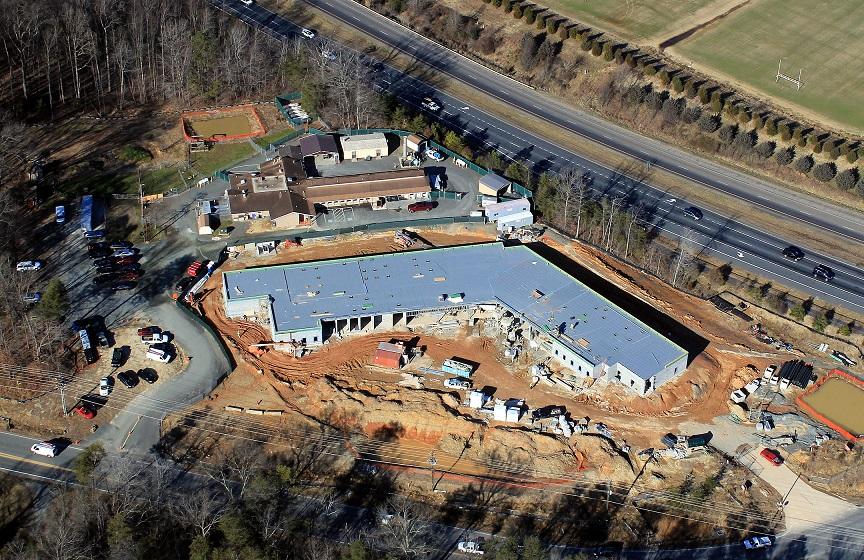 The new Prince William County Animal Shelter is under construction and expected to open for limited occupancy in the fall of 2021 and fully operational in Spring 2022.  The existing shelter is open for business while the new shelter is being built.
Updates posted on the County's website.
Teachers register now for Fall 2021
Registration for Kind News now open! This publication is free of charge for all Prince William County, Manassas City and Manassas Park teachers in K-6 grade classes.  Deadline to register is June 19, 2021. All teachers must renew their subscription each year. No automatic renewals. Register here
Shelter Update
January 15, 2021
(Photo (c) Prince William County)
As of the start of the new year, the Animal Shelter construction progress is approximately 44 percent complete. The exterior masonry walls and structural steel installation (including roof decking) are substantially complete. The interior masonry walls and metal stud wall installation are now in progress. Roofing is scheduled to begin in February with the intent to make the building weathertight in March. To stay updated with the progress of the new shelter visit Prince William County's website.
Drumroll please! We are excited to announce the winner of our Holiday Pet Photo contest. Congratulations Buster and Jax, two shelter dogs enjoying their forever home. We loved the joy and happiness in all of their faces and that the entire room was decked out in holiday cheer. We received so many really fantastic photos and deciding one winner was very difficult. Thank you to everyone who sent in a photo and shared your joy with all of us during what was a challenging holiday season. Your photos turned into $625 in donations for the Prince William County Animal Shelter ! Buster and Jax will receive a $50 gift card for a trip to Petco. Happy 2021 to everyone!
Life-saving Devices Now at Every Fire Station in Prince William County
October 17, 2020 – In celebration of National Fire Safety Month, the Prince William SPCA has donated 65 Wag'N O2 Fur Life pet oxygen mask kits to Prince William County Department of Fire and Rescue System. The donation, valued at $5,570.92, provided kits for each fire station's response units. The kits come with three different size masks that can be used on dogs, cats, ferrets, rabbits, guinea pigs, birds and many more species.
On Saturday, October 17, 2020, Prince William SPCA board members traveled to Stations 6, 18 and 26 to make in-person deliveries and to thank the first responders for their dedication to the community. "We are thrilled to provide our local first responders with access to critical equipment that can save the lives of pets," says Prince William SPCA President, Melissa Korzuch. She continues, "The community should have peace of mind knowing these devices are readily available county-wide on every fire truck that responds to an emergency."
In 2013, the Prince William SPCA donated 42 pet oxygen mask kits to Prince William County Department of Fire and Rescue System. This recent donation will replace worn equipment and provide new equipment for fire stations built after 2013. Battalion Chief Bruce Tucker assisted the Prince William SPCA with coordinating the latest donation and commented, "There have been a number of times over the last 7 years where we were able to utilize the previously provided resources to make a difference in a family's life." Adding, "We are fortunate and thankful for the SPCA's willingness to help us make a difference through these generous donations to the Fire and Rescue System."
Pet oxygen masks are necessary to resuscitate animals suffering from smoke inhalation. The device works similarly to equipment manufactured for humans suffering from smoke inhalation, except these devices are used solely for companion animals. The cone-shaped design has a a rubber seal that creates a snug fit over the animal's nose and mouth making the oxygen delivery more effective than oxygen masks designed for humans. Pets often sustain inhalation of smoke or carbon monoxide and can die in transport to a veterinarian. This life-saving equipment is used at the site of the fire, offering immediate aid to the pet and thus minimizing the number of animal fatalities that occur due to fire.
Huge THANK YOU goes out to the wonderful team at Metro Nova Creative.  As part of our 16th anniversary, we are working update online and print media with the new, refreshed look!  Metro Nova Creative provided in-kind design support to update our logo. If you need help with logos, graphic design, website design, or marketing, visit their website.
Cheers to the past 16 years and to many years to come!
While 2020 has been very different than the other 15 years, what has not changed is our continued dedication to companion animals. Huge shout out to everyone who has been instrumental in our many successes over the last 16 years…
Our Volunteers – without you, we could not do the work we do
Our Donors – without your financial and in-kind support, we could not run the programs that make an impact on the lives of animals our community every single day
Our Community – which joined us in advocating for a new animal shelter (did we mention that construction is now underway?)